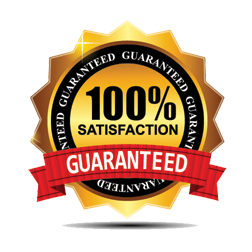 We Guarantee That You Will Be Satisfied With Our Work
Don't sign off any work that you are not satisfied with. We place a high standard in the delivery of our work and should you be unsatisfied with any of our services, don't sign off on it. We provide a variety of Managed IT services, IT Consulting, IT Project Management and fully expect our clients to be satisfied with the work that we deliver. We are looking towards establishing a long-term mutually rewarding relationship with all our clients. Client satisfaction is a pillar to that goal.
We Guarantee Reasonable Response
A number of service providers don't specially guarantee a response time. We do this in writing, within 4 hours for critical faults and next business day for non-critical faults. This is our way of ensuring that our clients are never left in a situation where this no response to their call for service. We are proud to inform that no client has even taken us to task because of missing our response time agreements. We strive to always better our response time and to keep your down-time to a minimum.
We Guarantee Proactive Managed IT Support
Prevention is better than the cure. We will work extensively to prevent failures. We will proactively monitor and maintain your technology assets. Failures not only cost you and your business money but they cost us technical man-hours as well. Our goals are aligned in wanting a high up-time and operational readiness for all your technology assets.
We Guarantee Budgeted Expense
Our Managed IT service comes complete with monitoring and unlimited support. This is a flat-fee service and removes any budget surprises to your business. You are able to plan and foretell your cash flow requirements while knowing that your technology assets are well taken care of. We want you to focus on your business and leave the technology to us.
We Guarantee Projects To Be Completed Within Budget
Our projects are also flat-fee and are all inclusive. There is no need for out-of-pocket expenditure and ballooning engineering costs. We standby our estimates and all related IT projects for the agree sum without any surprises.
We Guarantee To Speak In Non-Technical Terms
Our Service Consultants are trained to understand the importance of putting their point across using non-technical terms. Not everyone understands technical terminology. All your support queries and questions will be answered clearly and in the most efficient manner. Inter-personal skills are necessary to communicate at all business levels. Our Service Consultants are experienced professionals and will conduct themselves accordingly.
We Guarantee To Understand And Help Solve Your Technology Problems
Our years of experience and exposure has allowed us to sometimes come up with rather innovative solutions. We understand the importance of keeping costs to a minimum and will work towards establishing a solution to your problem that is within your budget. Expensive hardware, software and upgrades are sometimes not necessary. We strive to provide you with the most economical and most appropriate solution to your technology problem.
We Guarantee To Work To Our Best Ability Always
We work to our best ability always. Our Service Consultants are constantly stretched to perform their best. They will do their level best for you and your business. They will earn your satisfaction in the work that they deliver. The best of our ability always.
We Guarantee To Be Your Trusted Managed IT Service Provider
We are not just looking for a client. We are looking to establish a mutually trusted and beneficial relationship. We are looking to make friends for the long-term. The exchange of money for work is a by-product of this relationship. We have clients whom we seen through relationships, marriages, births and even unfortunate events. When we embark on this journey together, we guarantee to your Trusted Managed IT Service Provider.
Give us an opportunity to fulfill our guarantees.
Contact us via our
web form
or give us a call at +65 6748 8776.
We look forward to starting a relationship with you.